The Montblanc Meisterstück, meaning "Masterpiece" in German, is a lineage of high-quality writing instruments that were first introduced by the Montblanc company in 1924. Over nearly a century, the Meisterstück has become a hallmark of fine craftsmanship and a symbol of writing culture.
Significance of the Montblanc Brand #
Montblanc, established in 1906, is a German manufacturer renowned for its luxury writing instruments, watches, jewelry, and leather goods. The Meisterstück, as the flagship product, has played a pivotal role in positioning Montblanc as a symbol of elegance, precision, and quality craftsmanship. This iconic pen series embodies the brand's pursuit of excellence and has significantly contributed to Montblanc's prestigious reputation in the luxury goods market.
Design and Features #
Material of the Body #
The body of the Montblanc Meisterstück is crafted from precious resin, which is known for its durability and glossy finish. This material not only grants a luxurious feel but also ensures the pen will endure the test of time, preserving its elegance and functionality.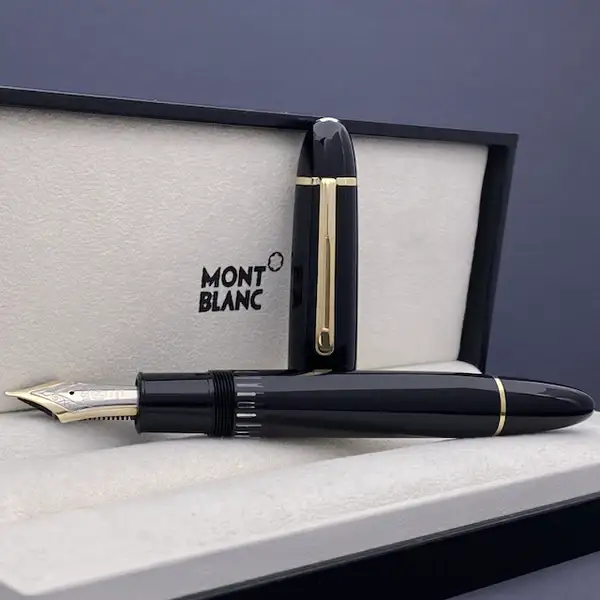 Design of the Nib #
The nib is a crucial element of any fountain pen, and Montblanc has set a high standard with its hand-crafted gold nibs. The Meisterstück's nib is made from 18-karat gold with a rhodium-coated inlay, ensuring smooth ink flow and a superior writing experience. The finely engraved decorations on the nib exhibit Montblanc's dedication to detail and craftsmanship, making each Meisterstück a true masterpiece in the realm of writing instruments.
Series and Versions #
The Montblanc Meisterstück series comprises various models, each with its unique characteristics, yet all embodying the brand's commitment to quality and sophistication. Some notable models include:
Meisterstück Classique: A timeless design with its sleek and slender body, it's a favorite among enthusiasts for its ease of handling and classic appeal.
Meisterstück LeGrand: Larger than the Classique, the LeGrand offers a more substantial grip and a bold presence, preferred by those who enjoy a heftier writing instrument.
Meisterstück Solitaire: Known for its metal body and luxurious finish, the Solitaire stands as a symbol of elegance and a high-end choice for the discerning consumer.
Meisterstück Ultra Black: This version with its matte finish and sleek design represents a modern take on the iconic Meisterstück design, appealing to a contemporary audience.
Each version within the Meisterstück series maintains the brand's high standards of craftsmanship while offering a unique aesthetic and functional appeal to cater to a broad spectrum of preferences among writing instrument aficionados.
Origin and Manufacturing #
The manufacturing process of the Montblanc Meisterstück is a blend of traditional craftsmanship and modern technology, ensuring each piece lives up to the brand's standard of excellence.
Manufacturing Process #
Material Preparation: The materials, including precious resin for the body and 18-karat gold for the nib, are meticulously selected and prepared.
Craftsmanship: Each Meisterstück pen goes through a precise and labor-intensive process where skilled artisans hand-craft the nibs and assemble the pens. The meticulous attention to detail ensures the high quality and durability Montblanc is known for.
Quality Control: Before making its way to the market, every Meisterstück undergoes rigorous quality control tests to ensure flawless functionality and aesthetics.
Packaging: The final step involves packaging the pens in elegant boxes that echo the brand's luxury aesthetic, ready to be delivered to retailers or direct consumers.
This elaborate process reflects Montblanc's dedication to delivering a masterpiece in every Meisterstück pen, aligning with the brand's legacy of creating high-quality, sophisticated writing instruments.
Collectability and Investment Value #
The Montblanc Meisterstück is not just a writing instrument but a piece of art with substantial collectible and investment value.
Value as a Collectible #
Historical Significance: The rich history and the heritage associated with the Meisterstück series make it a coveted item among collectors.
Craftsmanship: The meticulous craftsmanship and the timeless design add to its collectible value, making it a cherished possession.
Limited Editions: Montblanc often releases limited edition Meisterstück pens which hold higher collectible value due to their uniqueness and rarity.
Appreciation Over Time: Many models of the Meisterstück series have seen an appreciation in value over time, especially well-maintained vintage pieces and rare editions.
Brand Reputation: Montblanc's reputation as a luxury writing instrument manufacturer further enhances the collectibility and investment value of the Meisterstück series.
The Montblanc Meisterstück, with its blend of historical significance, exquisite craftsmanship, and the prestige of the Montblanc brand, holds a distinguished place in the realm of collectible writing instruments.
The Montblanc Meisterstück has not only stood as a symbol of fine writing culture but also embodies the tradition of craftsmanship and innovative design that Montblanc champions. Its influence extends beyond the realm of writing instruments, contributing significantly to defining luxury and excellence in the broader market of high-end goods. Over the decades, the Meisterstück has maintained its allure, reflecting a blend of timeless elegance and functional precision that continues to resonate with aficionados and collectors alike. The enduring legacy of the Montblanc Meisterstück showcases the brand's ability to meld history, craftsmanship, and innovation into a product that transcends generations.